When Nancy and Steve Hall first approached us to host the rehearsal dinner for their son, Adam's upcoming nuptials, they certainly gave us a task!  With so many beloved friends and relatives coming into town from great distances, they wanted to include everyone for the dinner, not just the bridal party – and – they wanted a ho down!  Guests spent time after receiving their invitation scouring local western stores and consignment shops buying the perfect attire for the evening, cowboy boots, and blinged out belt buckles.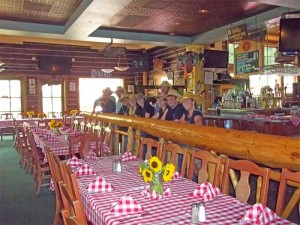 It was great fun planning the event, held at the Kickapoo Tavern in beautiful Keystone, Colorado.  The Kickapoo already lends itself for a rustic feel, but our talented staff here at All Events and Catering didn't stop there.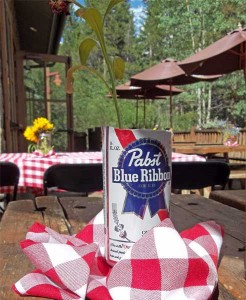 With checkered table cloths, giant sunflowers in mason jars tied with raffia and Pabst Blue Ribbon cans with fresh flowers in them the place really started looking festive.  Then we gave cowboy hats to all of the servers and ripped apart a hay bale and spread it all over the floor!
Mr. And Mrs. Hall went another step and hired a "caller" who wrangled the crowd later in the evening for a true square dance!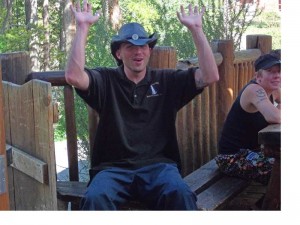 The fabulous chef, Don, over at the Kickapoo had carved beef, rosemary chicken and loads of other "fixin's" with a mountain elegant twist.  Remember, our chef's can prepare just about anything to your liking.
With 7 restaurants to choose from and numerous other outdoor and indoor beautiful locations throughout the mountains of Colorado that All Events and Catering can produce from – you can truly have a rehearsal dinner to remember!