Winter in Breckenridge is truly romantic.  Everywhere you look, couples are holding hands and wandering the streets window shopping in this picturesque Victorian town.  The snow covered street lamps and trees look like something out of a Norman Rockwell painting.  The brisk mountain air invites you to warm up next to the one you love.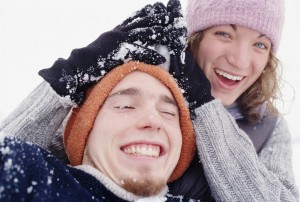 Those who like the outdoors will love the activities you can do with your sweetheart.  A day of skiing on one of Breckenridge's four peaks, with majestic views from the top, tons of powder and tree lined runs  will ignite your passion for the sport as well as for each other.
Parked along historic Main Street toward the center of town is an old horse drawn carriage ready for lovers to rent.  The ½ tour will take you along the myriad of streets with your tour guide pointing out the historic landmarks in town.  Bundle up underneath the blankets as you enjoy your ride.  The carriage can also be rented privately for parties and weddings.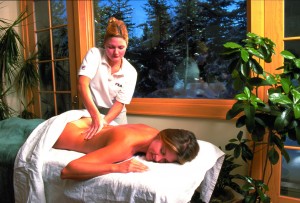 After a day of activities, it may be time for some pampering.  There are many spas in town who offer couples massages as well as many other services for you to spoil yourself or your significant other with.  Indulge in Alpine Spa and Salon's  75 minute Orient Essence Treatment.
Blue Sage Spa offers the Decadent Chocolate Therapy treatment.  You will be  covered in a chocolate mask which will bring out the toxins in the body.  Decadent for sure.
Finally, nothing says romance more than a fabulous meal with your someone special  – and Sauce on the Maggie Italian Eatery is the place to dine.  Enjoy fine Italian wines, homemade Italian dishes from secret family recipes, scruptious desserts and after dinner drinks all in a warm and cozy atmosphere.  Our pick is the beef carpaccio for your appetizer and the white clam linguini as your entrée – yum.
Love is in the air in Breckenridge and isn't hard to find if you know where to look…